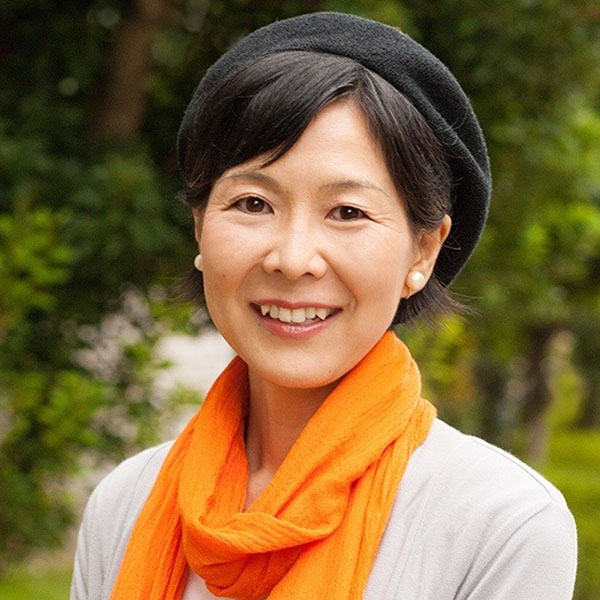 Age:
56 years old (As of October 2018 interview)
Place of residence:
Chiba Prefecture
Relatives living together:
Living with husband
Age of onset:
About 40 years old
Age of diagnosis:
50 years old
Dementia rating scale?Mini-Mental State Examination(MMSE)
The most widely used screening test internationally for identifying dementia, in which questions are asked directly to subjects. The MMSE assesses cognitive functions with a series of questions/tasks related to orientation, memory, attention and calculation, language, giving commands and copying a picture. The test yields the highest score of 30 points, and, in general, those who score 23 points or lower are identified as suspected patients with dementia.Revised Hasegawa's Dementia Scale (HDS-R)
A screening test widely used in Japan for identifying dementia, in which questions are asked directly to subjects. It has 9 questions/tasks related to age, orientation, immediate memory and delayed recall of 3 words, calculation, backward digit span, memory of 5 objects and language fluency. The test yields the highest score of 30 points, and, in general, those who score 20 points or lower are identified as suspected patients with dementia.:
MMSE 25About (As of 2013)
Using long-term care insurance:
Not using the services
Frequency of gatherings with other people with dementia:
Running a message board for people with Lewy body dementia to interact with each other

Past experiences
2000年(38)
Repeatedly saw visions of people but thought they were optical illusions
2004年(41)
Misdiagnosed as depression after visiting hospital for insomnia, headaches and fatigue. Suffered from the wrong treatment and serious drug side effects for about 6 years
2010年(47)
Stopped medication and regained health

2011年(48)
Started to see visions of people more frequently
2012年(49)
Became aware of visual hallucinations and visited a specialist. Placed on observation without any diagnosis or treatment.
Resigned from a part-time job due to poor health and repeated mistakes
Diagnosis
2013年(50)
Diagnosed with juvenile Lewy body dementia based on symptoms. Symptoms improved after treatment began
2014年(51)
Started to participate in projects or accept interviews that were related to dementia anonymously around this time
2015年(52)
Spoke at the "Lewy Forum 2015" in my real name for the first time.
Published "What Happened in My Brain" (bookman/sha) and won the Medical Journalists Association of Japan Award for Excellence
2019年(56)
Thinking ability remains unchanged, but had attention disorder, impaired sense of time, impaired spatial cognition, olfactory disturbance, autonomic dysfunction, visual and auditory hallucinations, and a variety of other symptoms
Publication, links, etc.
Website|Naomi Higuchi Official web site LINK
Publication|『Malfunctioning Brain』
Publisher: Igaku ShoinYear of Publication: 2020年 LINK
Publication|『What Happened in My Brain』
Publisher: bookman.shaYear of Publication: 2015年 LINK
Publication|『Home Healthcare College - 21 multidisciplinary lectures to support the local symbiosis society』
Publisher: Igaku ShoinYear of Publication: 2018年 LINK
Publication|『Self Support Study for Everyone』
Publisher: Kongo-shuppanYear of Publication: 2017年 LINK
Publication|『Life Doesn't End When You Have Dementia - Words from me with dementia to you with dementia - We are with dementia』
Publisher: harunosoraYear of Publication: 2017年 LINK
Publication|『Small but Loud Words from People with Dementia - Can you see my voice?』
Publisher: harunosoraYear of Publication: 2015年 LINK
Publication|『The Shape of Future Medical and Nursing Care: 10 recommendations for a bright future in a super-aging society』
Publisher: Japan Medical PlanningYear of Publication: 2016年 LINK
Website|Malfunctioning Brain - Lewy body dementia self support study LINK
Joy in life and living
1
Joy that you have given up
Cooking various cuisines from around the world
2
Joy that remains with you even after onset
3
Joy that has come to you after onset
Clearing misunderstanding about disease/dementia
4
Joy that has come to you after onset
Something you would like to do in the future
I hope that any person with a brain disease or disorder, not only dementia, and their family members, can live a normal life in society. I would like to find what I can do for that purpose.
When I was diagnosed in 2013, Lewy body dementia was a disease that no one knew about. People did not know that many with the disease were suffering from misdiagnosis and drug side effects, either. However, I feel that the situation has changed considerably over the past six years. I feel that the way dementia is perceived has also changed dramatically, thanks to the efforts of many people. I hope that such changes will spread to other diseases and disorders as well.
Challenges in daily living
11 Areas of Daily Living

Daily Living Challenge

DATA

the Mental or Physical Dysfunction

Knowledge

I cannot remember what clothes I have and where they are stored. I cannot manage my clothes.

I do not know how to dress for each day. I wear the same clothes all the time because I cannot tell what I should wear.

I have no idea where my husband's suit is stored. I cannot find it when my husband asks me.

When I go on a long trip, I cannot put in my suitcase what I will need by imagining what will be happening during the trip.

I become unable to tell what I have put in my suitcase. When I take and lay them all out, I become unable to tell what I need even more.

It is difficult for me to change clothes as the seasons turn because I have to open all the wardrobes to see where I have stored what clothes.

My blood pressure drops after eating, when exercising, and when air pressure is low.

While cooking, I do not feel, "It smells nice."

I smell rotten fish although the smell does not actually exist. I feel a stench is wafting all around me.

When I heat two or more pots at the same time, one slips from my consciousness and gets burnt.

Use a timer when heating a pot and get reminded

Unless I open the door and check inside, I have no idea what are in the refrigerator.

While cooking, cannot remember how to cut ingredients

While cooking, I become unable to tell how to season the dish.

While cooking, I forget that I have put out a plate and a spoon for tasting, and keep using new ones every time I taste.

I cannot season the food well, and my dishes taste light.

I cannot come up with menus for several days

Cannot quickly pick up right ingredients when cooking

When I try to remember ground meat dishes, only mapo doufu comes to my mind. I can remember only certain dishes

Cannot remember menus and recipes for meals

I cannot remember what I made for dinner and always end up cooking the same dish.

I forget that I have warmed up side dishes for my husband. A feeling that the time spent for warming up the dished did not exist.

As I can cook only simple dishes and only one dish at a time, simple meals continue every day

I cannot tell how long it takes for Somen noodles to boil.

Use a timer to measure cooking time

While cooking, cannot tell how well food is cooked

Cut meat and fish in half and check the color

While preparing meals, I increasingly often knock over or spill things, and break dishes.

Stains of soy sauce on a white plate, which should not move, appears to be moving.

Sesame seeds on the table, which are actually not moving, appear to be moving.

Cannot tell what dishes are in the cupboard. Even when I open the cupboard, as soon as I close it, I cannot remember what are inside.

It takes time for me to see Chinese characters for miso (bean paste) and recognize that they stand for miso.

I feel the presence of someone passing behind me right now. I do not see the person, but I definitely feel a strong presence of someone.

I cannot remember what I thought I would have to do the day before.

I feel pain as if my toe is cut, although it is not actually cut.

When I think that I need to put out kitchen waste, I start to smell kitchen waste.

I cannot remember when the garbage collection day is.

I cannot tell what day of the week it is today. I need to think whether it is the beginning or the end of the week.

I forget what I thought I was about to do.

I cannot remember my schedule.

A stain on the wall appears to be a human face.

The wall suddenly appears to be bulging out in a hemispherical shape.

I see a strange man lying on my futon (mattress). The Futon appears to be a man.

Patterns on carpets appear to be moving.

Trash on the floor appears to be roundish crawling bugs. I cannot recognize trash until the bugs disappear.

I lost the notes that I jotted down and cannot find them.

Although I decide where to put my watch, I lose it by putting it somewhere else. Just the thought that I will be looking for something makes me feel anxious and slightly upset.

I lose track of the days of the week and wake up my husband in holiday mornings.

The scenery outside the window, which is not actually moving, suddenly appears to be moving.

My handwriting in the diary gets worse every year.

I go out for shopping and become unable to tell what to buy.

Take a written note of what I need to buy.

When I make payments at the casher, I mistake 100 yen coins for 1 yen coins.

Cannot do simple calculations

I come back home to realize that I have forgotten to buy something I was supposed to buy.

Take a written note of what I need to buy.

I am always frightened of when and where visual hallucinations will appear but cannot tell anyone about how I feel.

I do not sweat even in summer and have a fever from the heat that builds up.

I experience sudden drops in blood pressure without doing anything.

When I was hiding my illness, I suffered from loneliness.

It is difficult for me to go out at night because I am tired and prone to various symptoms.

I try not to go out at night often.

Although I do not know the reason, I suddenly get sick as if I have a seizure. Things such as stress, fatigue and low pressure could work as triggers.

When the air pressure drops, my body feels limp.

It is difficult for me to adapt to changes in temperature. I am sensitive to air conditioning and cold weather. I feel limp when temperatures suddenly rise or drop.

I cannot tell whether the bath water is hot or cold, and do not know what the right temperature is.

The bath water feels slimy, and soaking in the bath itself is uncomfortable.

I cannot remember whether I have brushed my teeth.

I forget whether I have taken a nap.

I have nightmares and scream out loud.

I have a hard time falling asleep on days when I get home late.

I have severe insomnia, headaches and fatigue.

I do not feel refreshed after doing exercises such as yoga or jogging.

I cannot sleep in hotels.

My hearing has become too sensitive, and I have the sensation that sounds suddenly assault me while on the street.

When I hear the name Shimbashi, a place I should be very familiar with, I cannot recall where exactly it is, its atmosphere and my memories with the place.

There are so many arrows on information signs at train stations, and I feel as if they are piercing my eyes. I feel sick because the amount of information overwhelms me and makes my head spin.

If I see too much information while traveling, I feel confused and get really tired.

Arrows on signs and billboards indicating straight ahead appear to be pointing to the direction to the ceiling.

Cannot tell where slanted or rounded arrows on signs and billboards are pointing

I have trouble changing trains and fell at a loss.

I ignored the traffic signals unconsciously.

It is difficult for me to read maps. I cannot tell where I am.

Cannot read the map if it is upside down

Once a new house is built on a street I am used to walking on, the street appears unfamiliar.

While walking on the street, I think about whether the cats I see are real or not and get tired.

An ordinary car at a stoplight appeared to me as a crumpled up car that had had an accident.

When I am in the passenger seat, the car does not appear to be driving in the middle of the road.

When driving, I see big bugs that do not actually exist.

While driving at night, I thought I saw a person in a place where I would not expect see to person, but it was building materials.

I see a woman, who is not actually there, in the passenger seat of my car.

I see spiders, which do not actually exist, in the car.

I cannot tell which direction the train is going.

When I park the car, the distances to the cars parked on the left and right appear very different.

I panic because the car that I think I have parked appears to be advancing towards me.

When writing my home address at the municipal office, I wrote a wrong number

Although I sometimes can write just fine, when I write letters, I could have trouble balancing characters and stop writing

I hear the ringtone of a cell phone that is behind me from the front.

When I am tired and talking to someone in a pub, my ears pick up all the surrounding noise and cannot catch what the person in front of me is saying.

I ask the same thing over and over again, and my children tells me that they have already told me many time.

I immediately forget an important request that my husband has told me twice.

I forget more often what I have told others and what others have told me.

It is difficult to concentrate on one sound in a place with a variety of noises, and doing so quickly makes me tired. When my brain is fatigued, I do not want to listen to anything.

I hear the music that plays at a regular time in my town repeatedly at different times.

Sudden brightening of surroundings causes pain

Light and sound are felt as pain

I cannot remember people's names.

I cannot remember when a certain event took place. I can remember by looking at my notebook and seeing words and places written.

My sense of time has faded, and I do not feel that it has been a while when I see my friend.

I am hesitant to make an appointment because I am worried that I might suddenly feel ill and end up canceling it at the last minute.

The sound of TV commercials feels piercing.

The TV screen seems glaring.

Hear television sounds as coming from another room. Hear sounds as coming from wrong directions

Hot spring water does not feel pleasant. It gives me an uncomfortable feeling similar to what I feel when wearing pajamas wet with night sweats.

When I am thinking about aromatherapy, I smell my favorite aroma, which does not actually exist.

Waves appear to be actually moving in photos of the ocean

It is difficult for me to grasp a lot of information from a bird's eye view and then summarize its main points.

Ideas for sentences come up, but I cannot organize them in my mind and put them into structured sentences.

When reading newspapers, I see bugs, which do not actually exist, flying right in front of my eyes.

I do not recognize "仏" as one Chinese character and read it as "イ" and "ム" (two Japanese katakana alphabets)

I cannot write the Chinese character "超".

Read the surname "Ito" as "Ifuji"

I cannot do my writing work without focusing solely on the task.

I cannot remember my personal identification number.

I cannot remember the names of my colleagues at work.

I feel scared of myself because I never know what mistakes I might make at work.

I make a series of mistakes at work every day and feel mentally stressed out.

I do not remember what I did at work and get scolded by my manager.

Write down the extension number in my notebook and always carry it with me

I was unable to remember procedures at work that I had never forgotten.

After the morning work and lunch at my workplace, I was extremely sleepy, had stiffness in my hands and felt cold.

My vision becomes poor in the dark, and I have difficulty reading manuscripts. I was able to read during the day, but not at night.
Physical and mental dysfunctions
Message to the society
The way we perceive and understand dementia has changed dramatically. Much of the unfortunate confusion that used to occur due to "man-made disasters" can be prevented. Today, more and more people are living with a smile on their faces even after diagnosis. Staying connected to people/society and continuing to live a fulfilling life is the best treatment. Instead of blindly fearing dementia, let us work to create a society where people can live happily with a smile even if they have dementia. As the first step, please update your perception of dementia.